Bugsy has slept all day.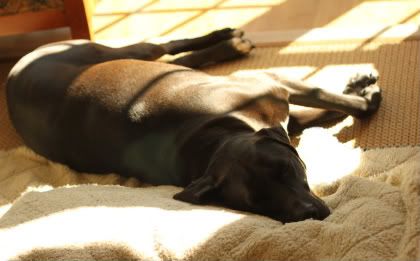 This is a rare occurrence and in this instance I attribute it to the dark, gloomy weather and we were all up about 4:30am.
This is very, very bad.
The next four hours or so will be a challenge; how to entertain and tire a 105lb ball of energy in the house (its pouring outside)
We've played some hallway fetch - until he cracked the tennis ball in half.
We played a bit with the
intellibone
toy.
we did some basic obedience - why is he always so obedient when we 'do' obedience but never any where else?
He's now watching the birds from a second floor window.
Thank goodness for birds!
Uh oh its too dark to watch birds and longer so he's just arrived and dropped a slipper on me.
Its going to be a long night!
:o)