Yup there's been lots of fun of late. We finally have consistently cool mornings and evenings. The days are still too warm for insanity but hey even the Bugs needs a nap on occasion.
He's been out and about and playing with his girlfriends and sneaking into people's homes (not really I was told to open the door a bit and their dog would come out but instead Mr. Greased Lightning flew in and said hi to all the inhabitants before being captured and escorted out).
This morning as per usual he had his Sunday playdate with his girl Izzy. They are always good for a laugh and today didn't disappoint.
He greeted Izzy with kisses - but she looks not too pleased with his breath or something
We did have one not so happy moment when Izzy decided that sharing his ice cube treat was not good enough. (I put some cheese or bacon bits or other yummy in a 32oz yogurt tub and fill it about halfway with water before freezing. It makes a cool low cal treat and he loves to gnaw away at the ice) At first Bugsy was so happy when she came over to join in,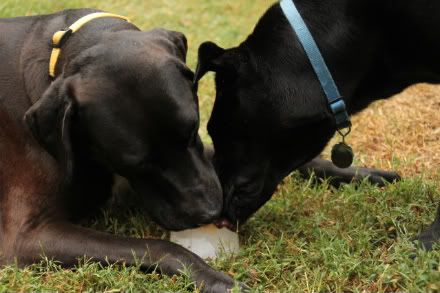 but then she really went after him and we had to break the treat in two and then all was right again. Poor Bugsy he always wants to share and he usually has his treats stolen and/or gets ripped into!
Very happy to say there was no issue once we had two hunks of ice they ate their ice and went right back to being silly best buddies!