Bugsy got great news from the surgeon the other day - his bones are healed!! He can increase exercise and in three weeks we can start some off leash activity -
REJOICE!!!!!!!!!!!!!!!!!!!!!!!!!!!!!!
He seems to realize that he has been semi-freed and is joyous and impish 24/7!
This morning we had a nice walk by the lake and up and down a hill. His nose was to the ground the entire time, the look on his face - when he looked up - was priceless.
He is clearly overwhelmed the the scents of nature, he appears to be on opiates, and his brain is engaged with nothing else. No command is effective, he has no sense that he is 'owned' or being walked. He's just out there doing what he loves to do. He gives me this, um hello I need to go THAT way, expression when we have a difference of opinion on direction.
Despite having aching shoulders now it is so incredible to see him doing what he loves to do again. Its been a long road. A road some day we may need to traverse again for his other knee but for now we will all rejoice in seeing my crazy, wild child dog being who he is!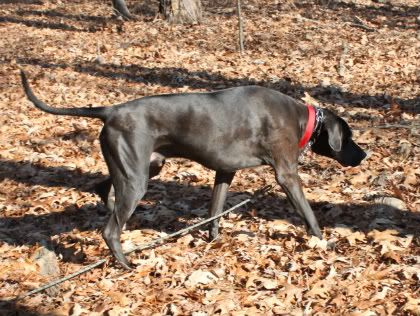 Happy New Year everyone! May it be your best year yet!